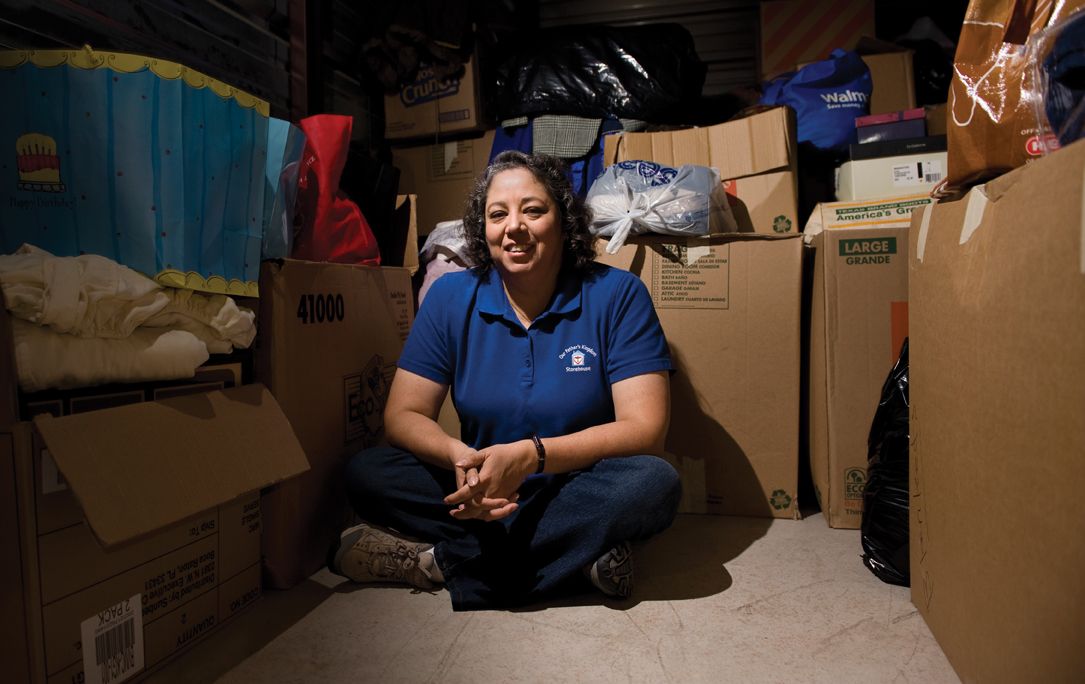 "But prove yourselves doers of the word and not hearers who delude themselves, for if anyone is a hearer of the word and not a doer, he is like a man who looks at his natural face in the mirror … goes away and at once forgets what he was like." – James 1:22 - 1:24
Or to paraphrase, if you hear the words and do nothing about them, you are just a hearer, but if you hear the words and take action, you are a doer. Elisa Medina-Riebeling is most definitely a doer, and she always uses this quote to inspire people to action in her organization.
Elisa Riebeling Ministries is a 501(c)(3) nonprofit organization dedicated to fighting poverty by help­ing struggling individuals, families, single parents and abused women with their needs. There is help for all.
Growing up on the West Side in a poor and dys­functional family, Medina-Riebeling saw firsthand how the kindness of strangers helped her desper­ate and struggling mother feed her family of five children.
"Seeing the hopelessness in my mother, seeing the fear that the food would run out before it was her turn in line – these things made me realize that I could make a difference in someone else's life by being there for support in whatever way they need­ed assistance," she said.
This period in Medina-Riebeling's life imprinted in her memory and set her on the path toward min­istry work.
When she was 15 years old, a friendly police of­ficer took an interest in her because she did not associate with the troublemakers in her neighbor­hood. He told her about a group affiliated with the Boy Scouts called Police Explorers. She joined, and during her two years working with the police, she learned about the law and saw that many people needed help.
It was there that she became interested in coun­seling and comforting people with emotional prob­lems. Most of them ended up in trouble because of unresolved emotional issues caused by abuse.
"It opened my eyes to what people were doing out there in the world, in our city," Medina-Riebel­ing said.
By 1990, Medina-Riebeling was working in the sector of social services, agencies and nonprofit or­ganizations created to assist the poor. She received training with VISTA (a national service program de­signed specifically to fight poverty), and this would propel her toward the ministry to which God had called her.
Medina-Riebeling began to collect donations of household goods, furniture and clothing. Operat­ing out of her home and garage, she assembled a handful of men and women who helped her col­lect, organize and deliver all the items for distribu­tion to those in need.
After Medina-Riebeling and her volunteers inter­vened to help a family facing eviction, Dawn T said, "They have helped me tremendously. They are my angels sent from God. I'm here for them, and I will love them forever."
In 2005, Medina-Riebeling registered her minis­try as a nonprofit organization. Her staff includes four full-time volunteers. Their spouses and other volunteers donate their time and 10 percent of their earnings.
Financial donations total about $1,000 per month, and the organization would love to partner with individuals, churches, businesses or corpora­tions that would make financial donations to fund ongoing operating costs and outreach programs.
Medina-Riebeling stresses the need for a build­ing where they can have an office and warehouse. Her home is their office, and a donated storage unit holds all donated items. They need volunteers to assist with clerical duties, fundraisers and ambas­sadors for outreach programs.
With your involvement, it is the organization's hope and mission to help change lives through prayer, outreach and crisis intervention in San An­tonio with the ultimate goal of preventing future crises.
"Our dream is to take this ministry nationwide, and open an office and warehouse each year in each state with all the programs that we have to of­fer," Medina-Riebeling said.
Outreach programs include:
Our Father's Kingdom Storehouse – This pro­gram involves distributing donated clothing, furni­ture, household goods and appliances to qualifying individuals and families free of charge. The goal is to establish a physical location where those with seasonal or even one-time needs can come and "shop" for free.
24 Hour H.E.L.P.: Helping Emergencies, Lov­ing People – This program aids families and indi­viduals in emergency situations such as little to no food, inadequate clothing, lack of hygiene prod­ucts and utility disconnection. This service is avail­able 24 hours a day, seven days a week.
HAT: Home Assessment Team Members – Trained Home Assessment Team volunteers visit homes to assess families' needs and determine what can be provided by Our Father's Kingdom Storehouse and other outreach programs.
Loving Hearts, Single Parents – This provides supportive care, hope and guidance, along with resources and referrals that will help single-parent families develop and thereby enjoy better func­tioning households.
Healing Hearts Visitation – Encouragement through prayer will be available with trained vol­unteers who bring ministry and fellowship to those who are shut in due to illness, disease or crime – those who have no one else to visit them in homes, hospitals, nursing homes and prison. They will be holding prayer meetings for people struggling with depression and other types of mental illness.
Elisa Riebeling Ministries is a Christ-centered in­terdenominational ministry that seeks to help the underprivileged and fight poverty by assisting with basic, day-to-day needs. It is the proud winner of Accion Business Center's First Biz Pitch Competition held at the Pearl Stables on Sept. 28, 2011.
The organization is seeking the donated services of doctors, dentists, optometrists, veterinarians, mechanics, carpenters, plumbers, attorneys, hair­stylists and seamstresses for individuals and fami­lies who cannot afford to pay for these services.
Individuals, businesses and churches: If your heart is nudging you to volunteer or partner with Elisa Riebeling Ministries, please call the organiza­tion's office.
http://www.getnside.com/sa/magazine/medical/012012/articles/2549-Serving_the_Needs_of_Others/